Franchise Owner & Operator
  'Bunmi Omitoyin (pronounced Bune-Me) possess in-depth expertise in event planning and project / financial management. Utilizing his advanced research techniques, detailed analysis, strategic planning, risk management and acute negotiation skills, 'Bunmi seamlessly delivers amazing and affordable results for each of his clients – every time!
We serve a diverse client base ranging from faith-based organizations, corporations, associations, government agencies, fraternities, and social events. We often work directly with the client, but we also work with other planners needing assistance securing meeting venues and/or hotel accommodations.
My personal experiences as a church pastor, coupled with my event planning experience, uniquely positions me to best serve the faith based / religious communities. An example of my current client base includes The Redeemed Christian Church of God North America (RCCGNA), Deeper Life Bible Ministry, Christ Apostolic Church North America (CACNA), Mountain of Fire and Miracle Ministry and the Apostolic Faith Church North America Region. 
We're able to leverage our industry relationships to negotiate the most favorable hotel contracts on behalf of our clients when they use our complimentary services. Additionally, we provide on-line registration services, event planning, venue management, audiovisual/production management, transportation coordination and other ancillary services such as event décor, photography, etc.  We customize our services to fit the needs and budget of our clients are offered as full service or             al-a-carte.
'Bunmi is happily married to his beautiful wife Janet and they live in the suburbs of Chicago, IL.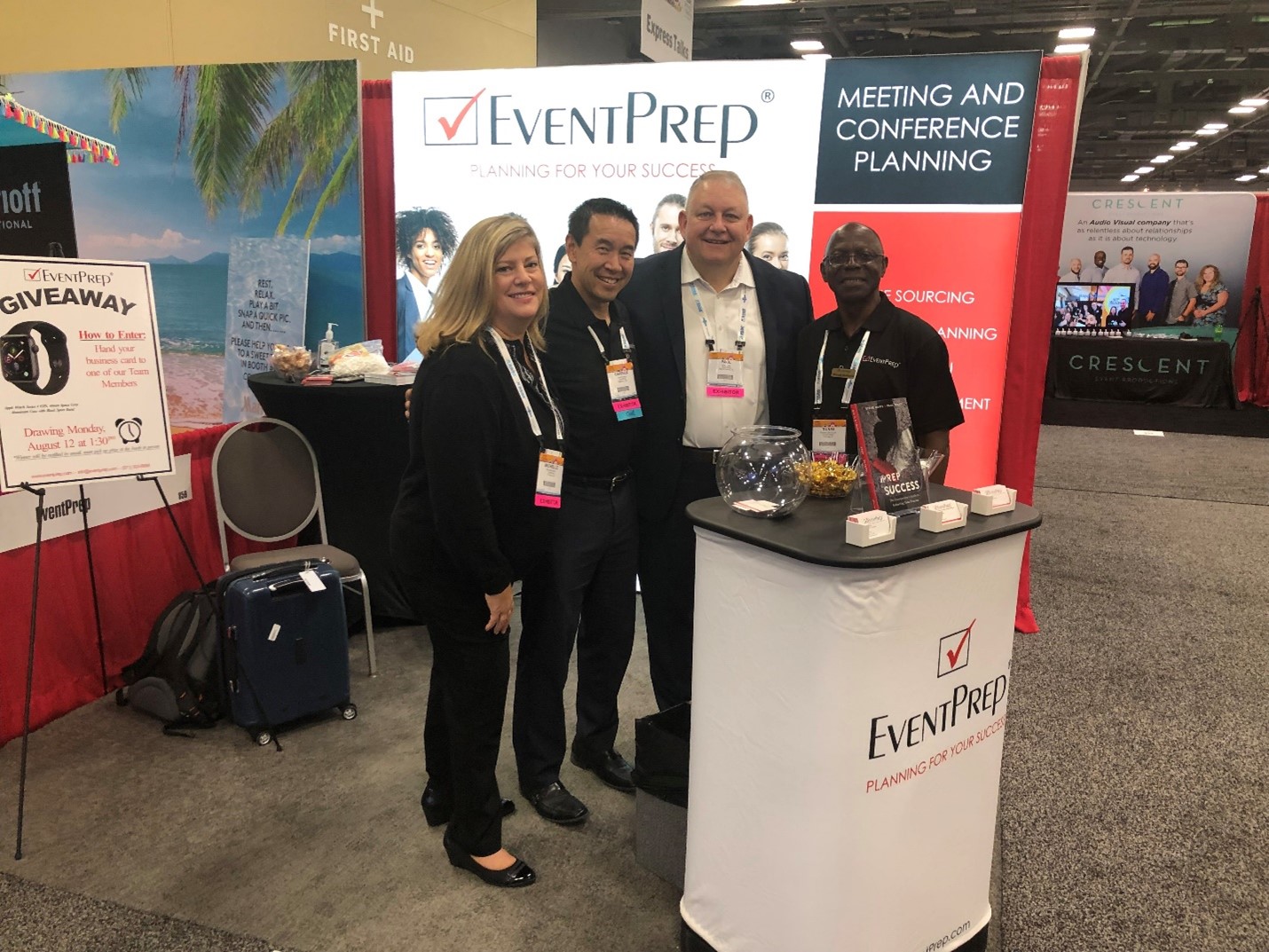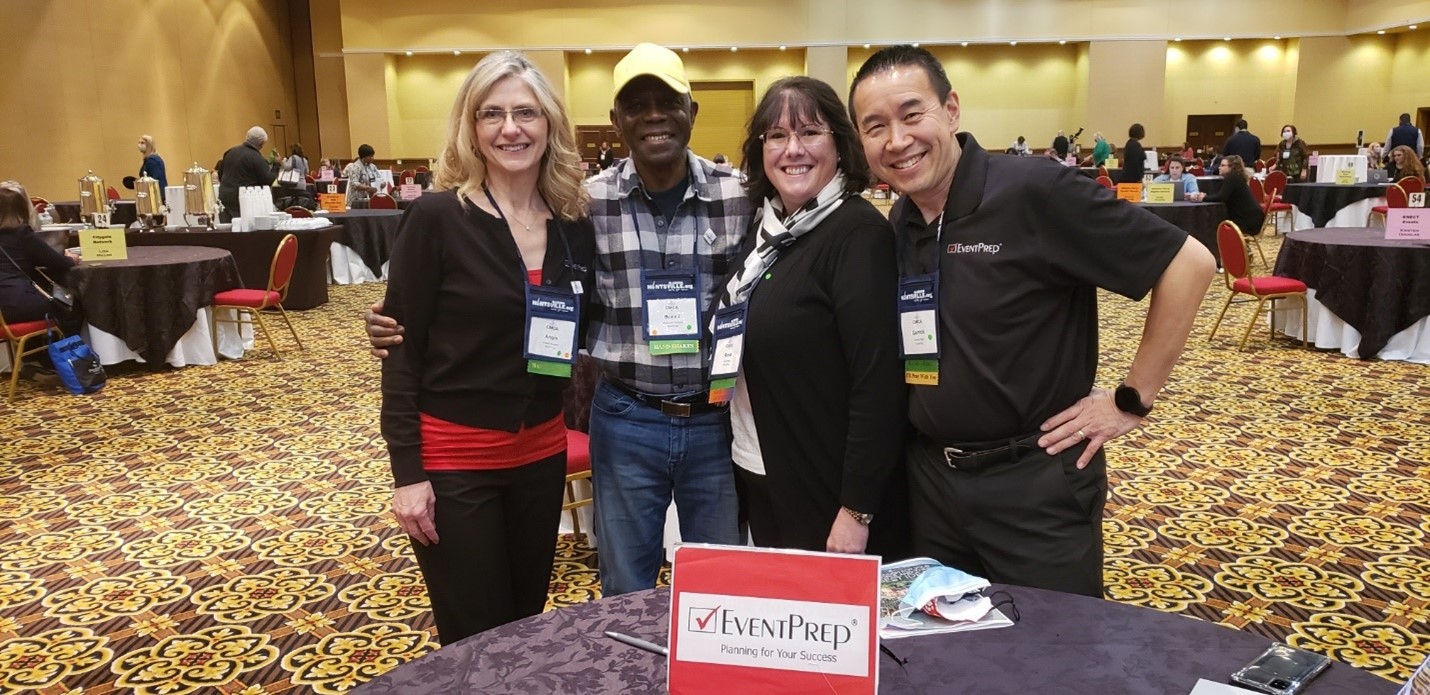 'Bunmi pictured with a few of his fellow EventPrep Owners at various tradeshows.
Our number one goal is 100% client satisfaction! See what our clients and industry partners are saying about us!
"Thank you so much for putting this venue together for our pastors' meeting and special meetings. The Holiday Inn Express was very accommodating. The rooms were nice sized with very comfortable beds. The variety of options for breakfast was good. The Jefferson Room where we held our pastors' meeting was very convenient and a nice size for our group. While I was there, there were times when I needed to meet one-on-one with pastors, and the hotel allowed me to use a meeting room that was not in use. We appreciated the room price you negotiated for us, and not having to pay for the conference room was a real blessing. Thanks again for all your help and the outstanding service."
"It was a pleasure working with Bunmi Omitoyin of EventPrep. We received excellent direction and information on a timely basis. They go above and beyond as a company to deliver the proper attention needed to ensure excellent service to their clients. We highly recommend EventPrep wholeheartedly."
"Thank you, Mr. Omitoyin, for arranging the Home2 Suites by Hilton Fairview/Allen for us for the RCCG 2021 convention. We really enjoyed our time there.  It's a great hotel and we appreciate all the concessions that you negotiated for us.  Will you be willing to arrange the same hotel for us for the RCCG 2022 national convention? We would be glad to recommend the hotel to our members"
"I appreciate all the effort you put into our Pastors' Conference, making it such a big success. Your thoughtfulness and attention to detail helped to create a lasting relationship. We look forward to working with you in the future."
"Getting a family friendly hotel for our Christmas vacation at the last minute was an uphill task.  Bunmi Omitoyin of EventPrep was able to negotiate 40% reduced rates for our Fairfield Marriott St Louis hotel that was just perfect for our group.  Indeed, he lived up to the slogan of EventPrep, saving us time money and anxiety.   I recommend Bunmi and EventPrep to anyone needing hotels and meeting venues for their events".